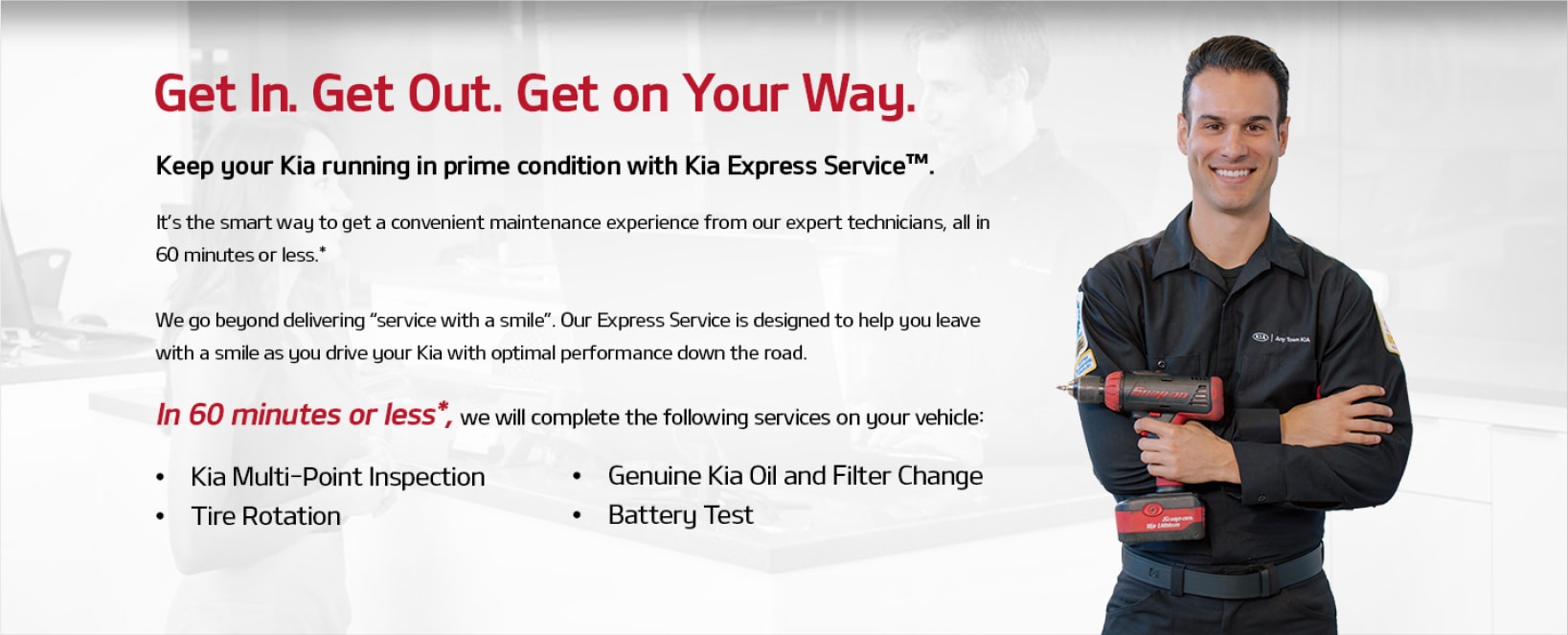 If you're looking for quality, competitively priced maintenance that fits your schedule, Express Service is Car Pros Kia Tacoma is for you.


At Car Pros Kia Tacoma, our service team can handle everything from routine maintenance to vehicle repairs. We understand you have a busy life, and you want your vehicle serviced and back as quickly as possible. That's why Kia Express Service™ is more than just fast - it's your complete service experience!


Regular oil changes are key to extending the life of your vehicle. Engine oil is one of the most important fluids for your Kia's mechanical performance. Having proper engine oil levels reduces friction between moving parts as it dissipates heat from the vehicle engine. Without regular oil changes, your engine components will become dirty and wear down quickly, causing a noticeable decline in performance. Without regular changes, your engine could potentially fail, costing you a hefty amount in repairs. It's also key when performing preventative maintenance to make sure your vehicle gets the correct type of oil. Not sure what oil is best for your car? Check your vehicle's oil cap or refer to the Owner's Manual for details.
If you come to Car Pros Kia Tacoma for your Kia's oil change, your vehicle's oil will be drained and refilled. Our team of trained professionals will also replace your oil filter with a Genuine Kia oil filter. Your maintenance indicator light will also be reset at this time so that have a more accurate measure of the next time your car requires service.
Complimentary Kia Multi-Point Inspection
The top-notch service your vehicle will receive doesn't end there. Every service that our Tacoma team provides includes a complimentary Kia Multi-Point Inspection. Kia service techs will evaluate and help ensure the overall health of your vehicle. Multi-Point Inspections involve our service department looking at a number of key areas for your vehicle to see if there's any upkeep or maintenance that's needed.
Complimentary Multi-Point Inspection looks at the following for your car:
Brake pad thickness & condition

Tire tread depth & wear pattern

Fluid level & condition

Cooling system & hoses

Drive belt condition

Steering & suspension components

Exhaust system & under vehicle components

Battery performance & terminals

Vehicle exterior & windshield condition

And much more
Tires are arguably the most important component responsible for your vehicle's handling, and tire upkeep is vital to your safety and vehicle driving performance. Did you know tires can also have an impact on your Kia's fuel efficiency? As a driver, it's important that you keep your tires properly inflated and use tires that match your Kia vehicle's specification.
Why is tire rotation important? Tire rotation helps with even tread wear and can lengthen the life of your tires. Manufacturers recommend that tires be rotated every 5,000 miles. Tire rotation costs will vary, but we encourage you to get in touch with our service techs for any questions on how often or pricing.
Regular and recommended tire maintenance helps extend your vehicle tire's life and can even help you at the pump.
The Importance of Testing Your Car Battery
As a driver, one of the worst feelings is going to start your car and having a dead battery. During our dealership's Kia Express Service, our service technicians will test your battery for any signs of weakness or issues. It's easy to forget about your battery until it's dead - not with our top-notch service team! We'll give you peace of mind that your battery is in good working condition. If your battery is not maintaining the proper voltage, we will let you know and recommend a replacement.




The best part? With Kia Express Service, we perform a Kia Multi-Point Inspection, Genuine Kia Oil & Filter Change, Tire Rotation and Battery Test in 60 minutes or less*!
Come in today to Car Pros Kia Tacoma for Fast, Quality and Convenient Maintenance service completed in 60 minutes or less! *
*Limitations may apply. Speak with a Service Consultant for full details.